Is mold in your house making you sick? This kind of a question would arise if someone suffers from persistent symptoms such as sneezing, runny noses, red eyes and skin rashes that seem to lessen or disappear when the person is not at home. The situation maybe complicated by the fact that only one member in the family would be experiencing these symptoms. Observations suggest that about 20% of the human population can have allergic reactions to mold spores. For asthma sufferers who are very young, elderly or those with weak immune system, mold spores can trigger much more serious problems.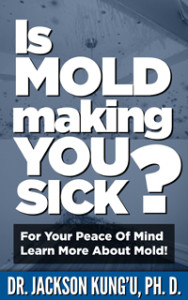 How to tell if mold in your house is making you sick
As said earlier, if a sufferer tend to get better when out of the house, this suggests that the cause of their illness is in the air within the home. The first step would to determine if mold spores were present in the house. It is important to bear in mind that
mold spores are everywhere. They're in your house, in your attic, on the street, in your living room, in your kitchen. It's a question really of how much mold is in your house and what types. Some mold spores are worse than others.
How to tell if you have mold in your house
The obvious sign of mold in your house is the visible mold growth on surfaces. This may appear as fuzzy or hairy growth when the mold is actively growing or powdery when the mold is inactive. The mold comes in different colors such as black, grey, blue, green, white or a shade of these colors. There are also indirect visual signs that suggest your home could be infested by mold. These include signs of water damage such as discoloration, peeling or bubbling paint, and bulging walls or ceilings. A musty or earthy smell is another reliable indicator of mold growth.
The best way to confirm if you are exposed to excessive amounts of airborne mold spores is to test the air in your house or office. To test the air for mold, you could either use a do-it-yourself mold test kit or you could hire a professional to do it for you.